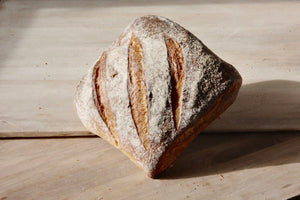 Sourdough francese is a naturally leavened bread that is hand cut on a marble table into irregular rectangular shapes. The high content of water and long fermentation times, combined with the lack of handling of the dough produce an airy, moist, chewy bread with a strong crust and a mild sour flavor.
It is a wonderful accompaniment to meals.  Its strong crust makes it fun to rip and dip into sauces or olive oil.
Unbleached and unbromated wheat flour (wheat flour, malted barley flour), filtered water, natural sourdough starter (wheat flour and filtered water), sea salt.