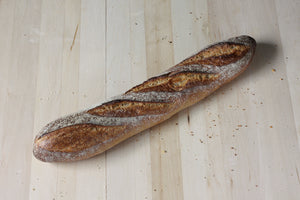 Made with over 50% of organic whole wheat flour and leavened by an organic whole weat starter, our  Baguette has a mild sour taste, complemented by accents of sweetness.
The baguettes have an open crumb while maintaining their earthy taste & aroma.  
It is great for sandwiches or as an accompaniment to soups, salads and other dishes.
Organic whole wheat flour, unbleached and unbromated wheat flour (wheat, malted barley flour), filtered water, natural whole wheat starter (organic whole wheat flour and filtered water), and sea salt.