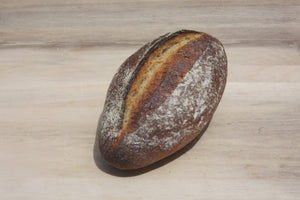 SOURDOUGH KHORASAN
Made from the ancient grain Khorasan with a light nutty flavor and a darker texture. This bread is easier to digest than white flour and is a healthier carbohydrate option.
We love it as a bread for a sandwich that both tastes good and feels good. A true favorite of ours, from our heart to yours.
Unbleached and unbromated Organic Khorasan wheat flour, Organic unbleached and unbromated Khorasan Whole wheat flour ,Organic Unbleached and unbromated Spelt flour , filtered water, natural sourdough starter (Khorasan wheat flour and filtered water), sea salt.