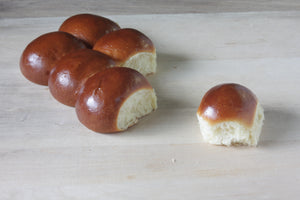 Pack of 6 light, sweet, buttery brioche dinner roll.
This soft, rich, golden bread is made the old-fashioned way, with lots of european style butter, organic milk, and organic eggs.
Unbleached and unbromated wheat flour (wheat, malted barley flour), organic skim milk, unsalted butter (sweet cream), fresh organic eggs, organic sugar,  sea salt  and fresh yeast .