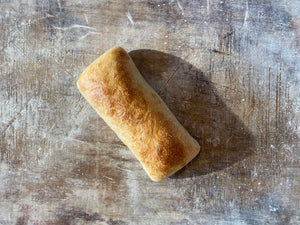 Pack of 4 Ciabatta Sandwich rolls
This light, airy, yeasted dough is made with extra virgin olive oil, fermented for an extended period of time & hand cut on the bench.
Its distinct, sweet flavor is present but not dominating, complementing the flavors of many different toppings.
Unbleached and unbromated wheat flour (wheat, malted barley flour), biga (wheat flour, filtered water, fresh yeast), filtered water, extra virgin olive oil, sea salt, fresh yeast.