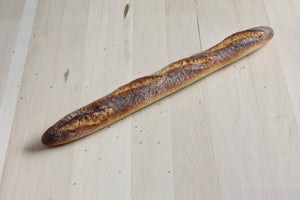 The long, skinny, stick shape of this bread is coupled with a distinct sourdough flavor and a lovely crusty chewiness.
It is ideal for slicing into rounds for hors d'oeuvres or cutting down the middle for a special sandwich. We also love it dipped in olive oil...

Unbleached and unbromated wheat flour (wheat, malted barley flour), filtered water, natural sourdough starter (wheat flour and filtered water), sea salt and sucanat (whole unrefined evaporated cane sugar).