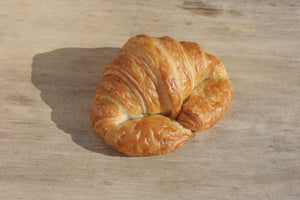 Box of 4 Plain Croissants !
Croissants are a labor-intensive delicacy, made with tons of fresh butter and, in our case, a combination of natural and yeasted starters. 

The result is a flaky, crispy, golden, sweet, moist and delicate melt-in-your-mouth experience. 
Unbleached and unbromated wheat flour (wheat, malted barley flour),  filtered water, natural sourdough starter (wheat flour, filtered water), poolish (wheat flour, filtered water, yeast), unsalted butter (sweet cream), organic sugar, sea salt, fresh yeast, fresh organic eggs (for egg wash).