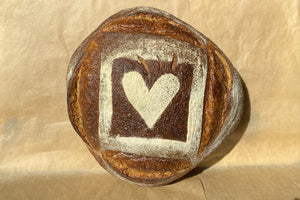 OUR FAVORITE BREAD SHIPPED TO YOU
 A rich yet simple sourdough, the staple bread for all! The high content of water and long fermentation times (24 hours), combined with the lack of handling of the dough produce an airy, moist, chewy bread with a strong crust and a mild yet deep sour flavor. 
Unbleached and unbromated wheat flour (wheat flour, malted barley flour), filtered water, natural sourdough starter (wheat flour and filtered water), sea salt.